All Meetings are held at
Northpark Community Church
2297 E. Shepherd Ave., Fresno

(On Shepherd, between Chestnut and Maple)
Events: Monthly Meetings held the second Monday of each Month.
Each month's dinner meeting incorporates fellowship and networking opportunities,
an inspirational speaker and prayer, all in a warm supportive atmosphere.
Special February Meeting
We are inviting the Men to join us in February
Bring your spouse or a friend!

Where: Northpark Community Church
Time:    6:00 p.m. to 8:00 p.m.
Guest Speaker: Bill Brewer
| | |
| --- | --- |
| | "…Under His wings you may seek refuge; His faithfulness is a shield and bulwark. You will not be afraid of the terror by night, or of the arrow that flies by day…" Psalm 91 |
Title & Topic: "Under His Wings"
Not to be missed. Bill Brewer will share his near death experience in Vietnam. One Spring day in 1972, Bill read his chosen scripture for the day—Psalms 91—before a pre-dawn catapult shot from the Kitty Hawk. You will want to bring your spouse, significant other, or friend to hear this amazing story from the man who lived it.
BILL BREWER
VETERAN, NAVAL AVIATOR
Bill graduated in 1967 from of the United States Naval Academy at Annapolis with a degree in Aerospace Engineering. He and his classmate-friend and combat flying mate, Mike Smith—later pilot of the Challenger in that tragic Space Shuttle explosion—wanted to be astronauts. However, Bill washed out during testing when the Navy discovered it had no spacecraft that would accommodate a 6' 6", 240-pound astronaut.
Honored to be selected to the leadership position of Brigade Commander, Bill became the highest rank among all midshipmen of the Naval Academy. As a Navy aircraft carrier pilot, Bill flew 238 combat missions from the USS Kitty Hawk through two combat deployments to Vietnam, and logged 344 carrier landings, 111 were difficult night missions. His 1972 bombing of the strategic and heavily defended bridge linking North Vietnam's capital with its major seaport helped accelerate the end of the war and return of the POW's.
Among Bill's awards and decorations for heroism in combat flight, were:
*The Distinguished Flying Cross with Gold Award Star
*The Air Medal with three Gold Award Stars; and
*The Navy Commendation Medal with Combat "V" and five Gold Award Stars.
Appointed by the President, Bill served the Nation's veteran entrepreneurs as a Director on the National Veteran's Small Business Development Corporation.
For more than 40 years, Bill has been an attorney in Fresno. Bill and his wife Linda have three children and four grandchildren; they celebrated their 46th Wedding Anniversary in December.
---

"Making a Difference"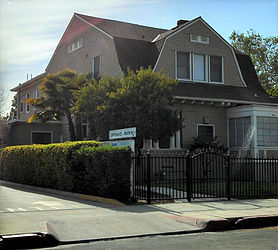 Each month we take donations for a Non Profit organization, this quarter our Non Profit will be "The Light-House Recovery Program". Our own Vikki Luna is the founder and director.

The Light-House provides an environment of safety, sobriety and faith based living offering teaching, training and therapy to support women in recovery and engaging them back into the community while emphasizing integrity, responsibility and self reliance.

Ongoing Needs:
Toilet paper, feminine hygiene products, computer paper, postage stamps, legal & regular sized envelopes, gas cards and powdered laundry soap. McDonald and Walmart gift cards always come in handy too and utilized as incentives for our women and children. You can also give cash or checks made out to NCC and you will receive giving credit through Northpark Community Church.

Please visit their website at: www.thelight-house.net for more information.





You can donate by Cash, Check (made out to NCC) or by Credit Card. We will be sure you are given "giving credit" through the church.


Cost: $17 if reservation is made prior to the Friday before the event. We have a special rate for all first time guest paid in advance of $15. If you want to pay at the door or make your reservation after the cut off the cost is $22. You can call Penny (559-349-1974) to pay by credit card in advance or go online and pay through PayPal, or mail check to: c/o Penny Murray- Northpark Church, 2297 E. Shepherd Ave., Fresno, CA 93720.


​
Payment
You can call (559-349-1974) and give a credit card payment or Register without pre paying call or email: PRETYPENY1@AOL.COM.
Please include names of guest and a phone number.
Must be received by the Friday prior to meeting.
Mail in to:
Penny Murray
P. O. Box 11664
Fresno, CA 93774
Mail-in Registration:
You can download this form if you would like to mail it to us. Pre-registration must be received by the Friday prior to the meeting.



For more information about the dinner meetings, call Penny at (559)349-1974.
Speakers:
You can download our speakers by clicking below: